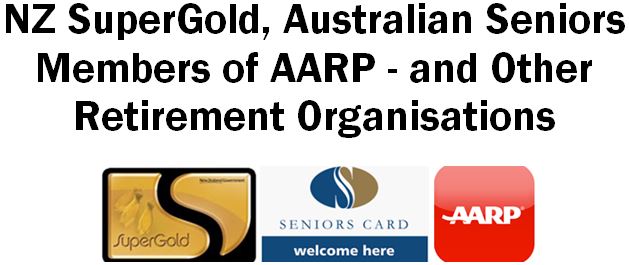 If you hold a New Zealand Supergold, Australian Seniors Card, are a member of the American AARP, a member of any recognised retirement group in your own country
(or can certify that you are 65 or over) we offer you 10% discount on purchase.
To receive this discount please complete the basic info below and submit.
You will then receive an immediate message containing a 6 character Coupon Code
Enter this code in the Coupon Code box when ordering and you will receive a 10% discount at checkout.
Occasionally we may offer seasonal discounts. Any additional discount will not be applied at checkout but will be refunded to your card within 15 days as cash back.
We like to know how our customers learned of us. We therefore use Promocodes. If there was a Promocode in the ad that brought you to this website please enter it at checkout and you will also be entered into our 6 monthly prize draw.
If there was no code then use RET123 as the Promocode.
To receive your discount code please provide the following info and press submit.
INFORMATION